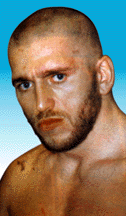 El Gringo Loco





November 6, 1994 the AAA held their PPV When Worlds Collide. Art Barr undoubtedly was the star of the night. He and Eddy Guerrero showed one of the best tag matches, no, THE best (tag) match ever shown on television. New Japan immediately showed interest as did the ECW promotion. International fame and fortune laid before him, ironically enough he died only 17 days later, at the early age of 29.....

Art Barr was the son of promotor Sandy Barr. Art started working for his fathers promotion as Beetlejuice, a huge fan favorite, and an idol for the kids. Later he joined WCW as the Juicer, where he didn't came much further as to jobber status. The americans thought he was too small, and too light to be a wrestler.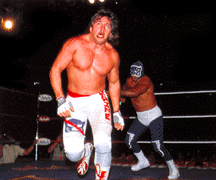 Fortunately he met Charles Ashenoff, aka Konnan, there and the two became good friends. Konnan (already influential in Mexico) took Art to Mexico to wrestle for the CMLL. There he first wrestled as Art Barr, later as Love Machine Art Barr. He soon started to feud with one of Mexico's most respected heels, Blue Panther. Their feud eventually resulted in a mask vs. mask match on april 3rd, 1992, in the Arena Mexico, and Art lost his mask to Blue Panther. May 15th, 1992, an other promotion in Mexico emerged, the AAA. A lot of big stars from CMLL left to this new promotion, including Konnan and Blue Panther. Because Blue Panther was the only one who wanted to face Art (I don't know why nobody else wanted), Love Machine decided to jump to the AAA as well when his contract with the CMLL expired in November 1992, and continue his feud with his arch-enemy Blue Panther. This feud reached another high peak as Art faced Panther in a hair vs. mask match in Los Angeles, where they completely sold out the place. Art entered the match as a face, but as the match went on, the crowd shifted their sympathies to the Blue Panther. At the end of the bout, Art was one of the most hated heels of Mexico, people calling him a Gringo Loco, a crazy American. At that time Art was regularly teaming with Hijo del Santo and Eddy Guerrero (la Pareja Atomica), who were a second generation tag team (as both fathers, El Santo and Gori Guerrero, also formed La Pareja Atomica). Art caused Eddy to turn on El Hijo del Santo and La Pareja del Terror was born. Hijo del Santo (son of the Saint) took Octagón as a tag team partner, and the two captured the tag team titles. This was of course a thorn in the eyes of Eddy Guerrero, who claimed he was tired of playing second fiddle to Hijo del Santo, much like his father did to El Santo, and he and Art soon started to hunt down Octagón and Hijo del Santo, in what can be seen as THE feud of 1994. In a bout where they bribed the referee la Pareja del Terror captured the Mexican tag team titles.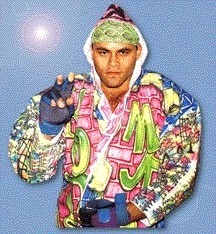 Konnan, the IWC World champion at that time, decided it was time for him to turn on Perro Aguayo and join forces with Art and Eddy. Never have I seen a trio that was hated that much. They weren't just regular heels, they were more than heels, they were the Gringos Locos (a bit like WCW tried to do with the NWO, only that one failed in a big way). They faced face teams, they faces heel teams, they were a group of their own. Soon they were joined by the Black Cat, Madonna's Boyfriend (Louie Spiccoli/Rad Radford), Chicano Power, Misterioso and King Lion. But Konnan, Eddy and Art were the core.
All these feuds ultimately led to the PPV When Worlds Collide, were Art and Eddy lost their hair (but not their titles) to Octagón and Hijo del Santo, and Blue Panther played a big part in this as well.
That was the last we've seen of Art Barr.
After Art died, Konnan soon lost his title, he couldn't defend it because he still was too devastated by the biggest loss in the wrestlingworld today. A few months later Konnan and Eddy got a disagreement in the ring. Eddy blamed Konnan for not be tough enough anymore. Konnan turned face on Eddy but the two never really started a feud as Eddy left for New Japan where he wrestled as the Black Tiger. Konnan and Perro Aguayo became friends again and soon Konnan was the one of the most popular wrestlers in Mexico again. Eddy Guerrero went to the ECW promotion where he also gained respect from American wrestling fans, after excelling in matches against Dean Malenko. Now both Eddy and Konnan are in WCW and both men are very succesful there. If Art was still alive, he would have showed everyone what a great talent he was, but every time I see either Konnan or Eddy, they remind me of Art, and a part of the glory these two now get will certainly go to Art.
Never will I forget my little conversation with Eddy Guerrero as he came to Germany for a WCW tour. I asked him what Arturo was like, and without hesitating he immediately responded: "He was a great wrestler, and a great person. He was a very good friend of mine, he was like a brother to me...".

I get up,
and nothing get's me down.

Why didn't you get up that one morning Art....?





The pictures on this page all come from Rudosvideo to who I owe my eternal gratitude for allowing me to use these pictures.

Return to the index page.